About Carwhinley Cars
Carwhinley Cars have a reputation…..for offering good quality, locally sourced cars, with them being serviced, MOT'd and warrantied. Without over complicating, we feel this straightforward approach contributes to our success
All our cars come from local Franchised dealers. If you wonder where your part exchange vehicle goes ? We buy directly from most main dealers in the area, from BMW to Skoda, Ford to Volvo, Mitsubishi and Kia.
We also buy cars privately from you the customer, with a bank transfer the same day
We categorically do not sell damaged vehicles
Graham and his wife Tina Lightfoot started to retail cars from the site at Harker, Carlisle, in 2008. However their combined motor trade experience spans some 40 years, with a firm grounding in motor finance products
After 5 years, the business expanded with a second site at Whiteclosegate in Houghton village, Carlisle.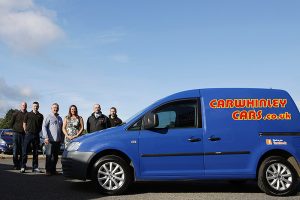 With it came members of staff, Jon, Stuart and Chris, always someone on site ready to assist. We are proud to say that not one of our staff, as numbers have swelled, has ever chosen to leave our employment.